There is a good news for millions of small investors in India as they will be able to earn more from popular post office schemes like Public Provident Fund (PPF) and Monthly Income Schemes (MIS). The government has raised interest rates on these investments by up to 0.5 per cent and this comes into effect from 01 April, 2012.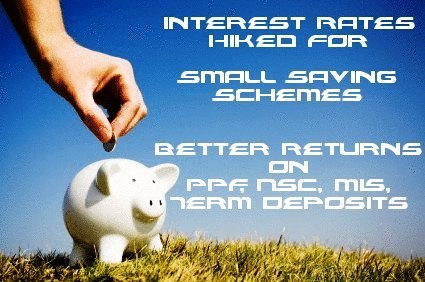 As you might already know, the interest rates on EPF (Employee Provident Fund) was decreased by the govternment and to make up for it, the returns on other small saving schemes like PPF and MIS has been increased.
Also Read: The Benefits of Compounding Returns
This hike in interest rates on small savings schemes are a result of the recommendations made by Shyamala Gopinath Committee which had suggested linking of interest rates on small savings with that of the other instruments available in the market to make these equally attractive to investors. The panel had also suggested that the interest rates on small savings schemes should be revised annually.
Changes in Interest Rates of Small Savings Schemes
MIS and PPF
Interest rates on MIS increased by 0.3 per cent from earlier 8.2% to 8.5%.
Interest rates on PPF increased by 0.2 per cent from earlier 8.6% to 8.8%.
Term Deposits
Interest rates on Term Deposits of one and two years increased by 0.5% each to 8.2% and 8.3%, respectively.
Interest rates for three year Term Deposits increased by 0.4% from 8% to 8.4%.
Interest rates on five-year Term Deposit increased by 0.2% from 8.3% to 8.5%.
Interest rates on Five-year recurring deposits increased by 0.4% from 8% to 8.4%.
Senior Citizen and NSC
Interest rates for Senior Citizens Savings Scheme (SCSS) increased by 0.3% to 9.3% from 9%.
The National Savings Certificates (NSC) having maturity of five and ten years increased by 0.2 % each giving 8.6 % and 8.9 %, respectively.
*The new rates come into effect from April 1, 2012 and will remain valid for the entire 2012-13 fiscal.
I believe that this hike in the small savings schemes from the post office will continue to attract more investors and the banks will have to increase the deposit rates to attract investors.
What do you think about this hike in the interest rates on the office. Does this attract you enough to start a small savings scheme with the post office? If you are still thinking about making your first inverstment, you may like to read about the importance of investing and how to get over the fear of investing.